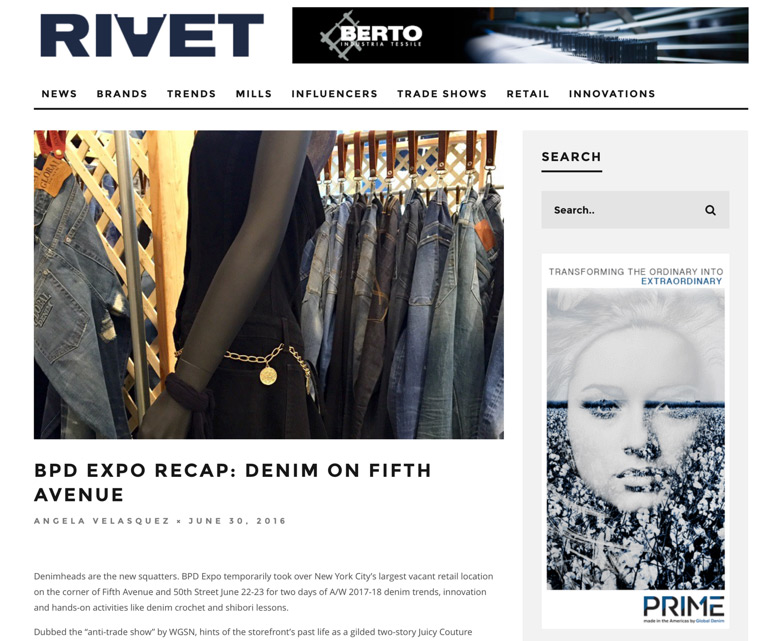 Global Denim/Global Prime es destacado en el articulo "BPD EXPO RECAP: DENIM ON FIFTH AVENUE" por parte de Rivet.
Seguida nuestra participación en BPD Expo 3.0, Global Denim / Global Prime ha estado hacienda mucho ruido y presencia en el Mercado. Esta vez esto se vio reflejado en que fuimos destacados en la pagina web RIVETANDJEANS.COM en su artículo "BPD EXPO RECAP: DENIM ON FIFTH AVENUE", en el que se hacen reseñas y análisis de las mejores y mas grandes fábricas de mezclilla.
Aquí esta un extracto del texto;
"While most mills presented expanded collections, less was more for Prime, Global Denim's new line of premium denim produced out of its brand new state-of-the-art production facility in Mexico. 
"The focus was on fabric, not crazy washes," said Michelle Branch, Global Denim creative director.
For the debut collection, the mill zeroed in on 10 fabrications—two core stretch, two bi-stretch, two fashion (sec. a warp-only stretch) and three rigid, including a light chambray and two super heavy options. The fabrications are offered in just two washes. Branch said the mill saw an early positive reaction to its chambray, black, warp-only stretch for men and 4-way stretch.
Geared toward a customer a step above Global Denim's core mid-tier clientele, Prime stood out with a brushed black denim gown with a velvety, moleskin feel—an eclectic statement piece that fit right in with the expo's creative atmosphere.."
Si le interesa leer mas sobre esto y observar algunas fotos de nuestras prendas también destacadas en el articulo, favor de dirigirse al siguiente sitio web;
http://rivetandjeans.com/bpd-expo/