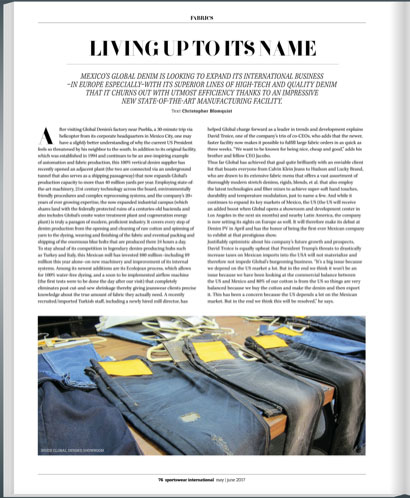 Global Denim® destacado en la edición impresa "The Fit Issue" de la revista Sportwear International"
En el mes de Febrero Global Denim®  tuvo la oportunidad y el placer de recibir a Christopher Bloomquist, el corresponsal de Estados Unidos de la famosa revista de la industria Sportswear International.
Seguida de una exitosa y cálida visita de Christopher a nuestras instalaciones en Puebla y una serie de entrevistas que realizó, el plasma su experiencia en México en el artículo de la revista titulado " Living up to its name", en donde titula como inicio del texto lo siguiente;
"Mexico's Global Denim is looking to expand its international business in Europe Especially with its superior lines of hightech and quality Denim that it churns out with utmost Efficiency thanks to an impressive new state-of-the-art manufacturing facility"
Si deseas leer mas sobre este gran articulo por favor ve a la página 76 de la edición de la revista May / June 2017. Puedes encontrarla en línea en el siguiente enlace;
http://www.sportswear-international.com/digital-magazine/sportswear-international/THE-FIT-ISSUE/116/epaper/
Así mismo puedes encontrar el siguiente anuncio de nuestra campaña publicitaria en la página 109.