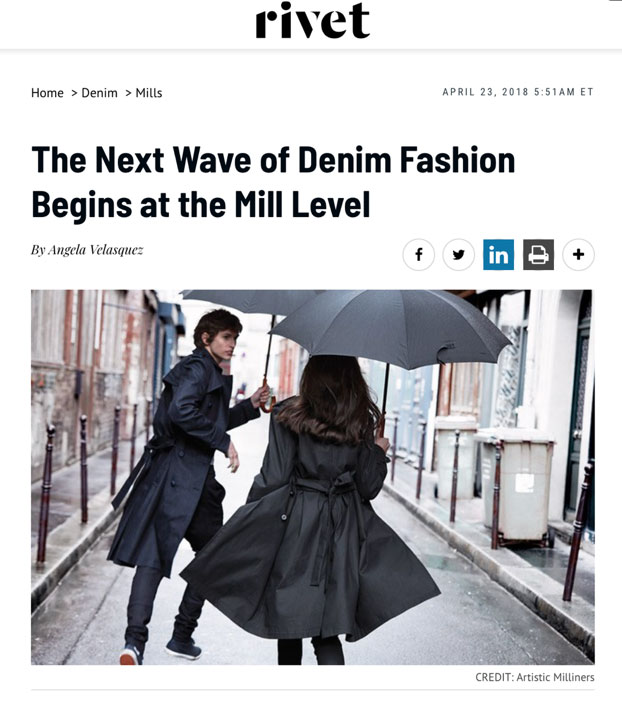 Global Denim destacado en el reporte post show en la revista Rivet, titulado "The next wave of denim fashion begins at the Mill level"
Cada temporada, al ser concluido un show, puedes estar seguro que vasa encontrar el mejor resumen de lo que ocurrió, las ultimas noticias y lo mejor de el en increíble portal de Rivet /Sourcing Journal.
En esta ocasión, seguido del show de Kingpins Ámsterdam se dio a conocer el articulo titulado "The next wave of denim fashion begins at the Mill level", en donde se enfatiza como las fabricas de mezclilla son las que traen y ponen  la pauta sobre la innovación que luego siguen las marcas; promoviendo tendencias, corte, color, tecnologías y direcciones creativas diversas
Sobre Global podemos leer lo siguiente:
"Mexico-based Global Denim brought back an expanded B-Touch collection, a range of peached fabric with an ultra soft hand. The mill added indigo to the popular line, which launched last season with black, gray and PFD for garment dye. "Everyone asked for indigo, but it was tricky to get it right because the process scrapes indigo off. We had to find the right balance," Jake Fraser, Global Denim director of U.S. sales and marketing, said."
Les recomiendo continuar leyendo este articulo; encontraran cosas sumamente interesantes sobre lo que viene en el mundo de la mezclilla.
Por favor sigue el siguiente link.
https://sourcingjournal.com/denim/denim-mills/next-wave-denim-fashion-mill-level-103680/