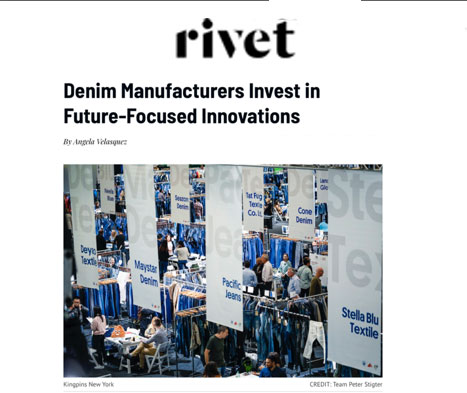 Global Denim Habla de Sustentabilidad y Evolución en el Nuevo Artículo de Sourcing Journal /Rivet, titulado "Denim Manufacturers Invest in Future-Focused Innovation"
Otra gran edición del show de Kingpins ha pasado, y gracias al equipo de Sourcing Journal y Rivet, y sus últimas noticias y artículos publicados en sus portales, tenemos todos los detalles e información importante sobre este evento.
Global Denim tiene el placer de comunicarles a todos ustedes, que una vez mas tuvimos el privilegio de ser participes y mencionados entre las grandes empresas de mezclilla en este articulo.
Global Denim habla de innovación y sustentabilidad a través de sus nuevas propuestas de diseño y su nueva propuesta ecológica y sustentable de denim reciclado titulado Ecoloop.
Pueden leer el siguiente extracto del texto a continuación ;
"Fueled by brands' demands for new recycled products, Mexico-based Global Denim is experimenting with recycled denim in the warp and weft. The Ecoloop collection, which will be ready for an official launch in October, uses scraps from the mill's own floor as well as waste purchased from brand partners.
Global Denim creative director Anatt Finkler said the mill is testing fabrics made with 60 percent to 70 percent recycled denim. While there's a maximum to the amount of recycled yarns that can be used, Finkler said the mill has found the right composition. "The key is how you recycle the yarn," she said. "Clients still have expectations about resistance and shrinkage."
Part of Ecoloop's development is eliminating any reason a brand may snub the sustainable option. Brands won't buy if the fabric's performance and aesthetic doesn't hold up to their standards—regardless of the positive affect it may have on their supply chain, Finkler said. They also won't buy if the cost isn't right, which is why Global Denim has worked to keep the cost of Ecoloop fabric remains comparable to other fabrics in its portfolio.
While, pre- and post-consumer recycled denim won't replace regular cotton, the right communication to the end-user, Finkler said, can make it another viable option, and that's what brands are searching for.
This season, Global Denim began design garments to help spark creativity among brands. The mill printed and washed fabrics and presented some backside printing to demonstrate the variety of results designers can achieve with a single fabric. "Clients sometimes look at fabrics with closed minds," Finkler said. "The denim industry can do more to drive trends."
Para leer el resto del texto de este interesante artículo, porfavor diríjanse y denle click a la siguiente liga;
https://sourcingjournal.com/denim/denim-mills/denim-manufacuters-innovation-108382/