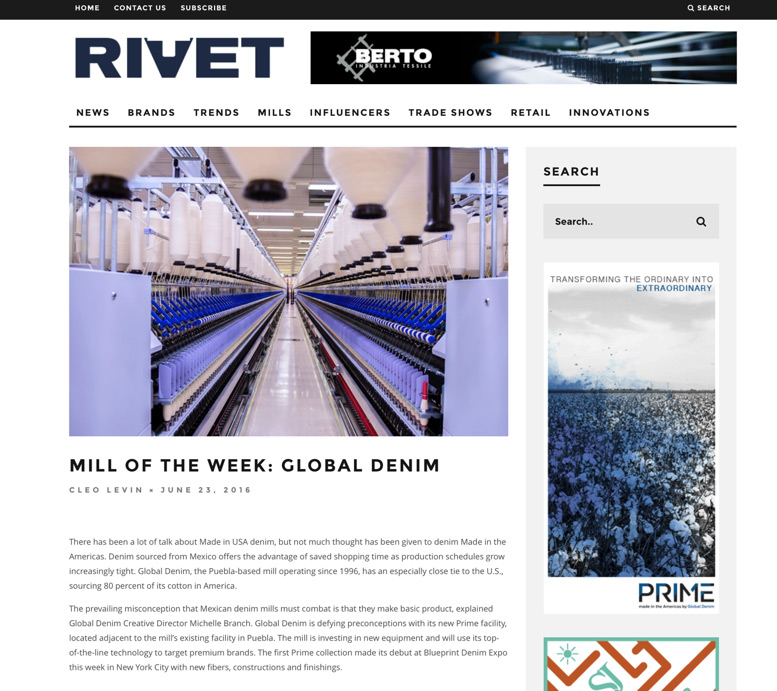 Global Denim is Mill of the Week
Rivet Magazine just feature Global Denim as mill of the week on its RIVETANDJEANS.COM website. We are so proud of this, and thank all of the Rivet team for making this possible.
Here's an excerpt:
"There has been a lot of talk about Made in USA denim, but not much thought has been given to denim Made in the Americas. Denim sourced from Mexico offers the advantage of saved shopping time as production schedules grow increasingly tight. Global Denim, the Puebla-based mill operating since 1996, has an especially close tie to the U.S., sourcing 80 percent of its cotton in America.
The prevailing misconception that Mexican denim mills must combat is that they make basic product, explained Global Denim Creative Director Michelle Branch. Global Denim is defying preconceptions with its new Prime facility, located adjacent to the mill's existing facility in Puebla. The mill is investing in new equipment and will use its top-of-the-line technology to target premium brands. The first Prime collection made its debut at Blueprint Denim Expo this week in New York City with new fibers, constructions and finishings……."
We encourage you to keep reading this great piece in the following link;
http://rivetandjeans.com/mill-week-global-denim/