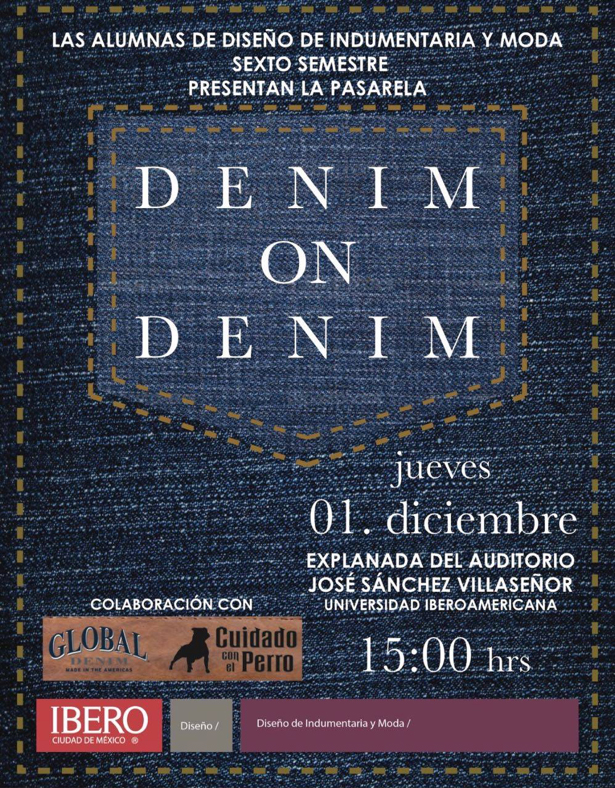 Global Denim collaborates with students of the fashion program at Universidad Iberoamericana on a Denim Runway
Because we care of our society and our people, and most important the future generations and education, we partnered up with the Fashion Department at Universidad Iberoamericana in Mexico City, to teach the students about denim and share our big passion for it.
For the entire semester, students were introduced to the concept of denim in a way they have never seen or experienced before; we taught them about the process of creating the fabric, and brought them to have hands on experience at the mill, to learn about the dry and wet process as well as the finishing and explained to them the entire supply chain.
We also partnered up with Mexican brand "Cuidado con el Perro®" which aims at a much hip, edgy and younger market.
The project, which will conclude tomorrow in a runway show will include the final work of each of the 34 students on the program. It will have two categories; "Street Style" and "Total Creativity".
"Street Style"; will aim the Cuidado con el Perro® market, and "Total Creativity" is looking for the students to use their creativity in transforming denim in a way they are not used to, to create high fashion garments and use new finishing techniques.
Everything was created with different types of Global Denim´s® fabric, students used fabrics with all kinds of constructions, and played with different weights.
Stay tuned for pictures of this great runway show.