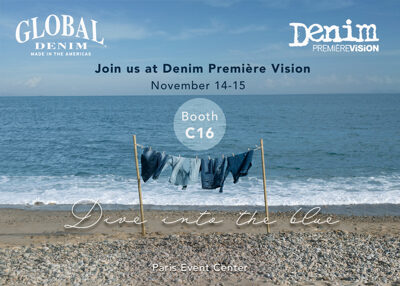 We are please to inform you that Global Denim®, is participating again in the celebrated Denim Première Vision expo, which will be taking place at the Paris Event Center, in the beautiful Paris on November 14-15.
Denim Premiere Vision is the leading show of Denim across Europe, were the most famous, powerful and big players of the Denim industry worldwide participate. Global Denim® will proudly continue being the first Mexican Company to join and present its collection at this great event, and we are sure its going to be a great success, and adventure and a step forward in our long way to go in the European market.
Global Denim® is proud to introduce at the show its newest collection titled "Into the blue". Into the blue comes from the idea of going beyond the expected, expanding your horizons, being free, relaxing, moving and conquering your path, specially if its tinted in the beautiful indigo blue.
Don't forget to say hi and visit us at our booth C16, and explore this great show which will include a Premium vintage market, Denim master classes, seminars and a lot of more exciting surprises.
Read More